/
Community News
/ Google Updated PageRank on June 27
Google Updated PageRank on June 27

by
admin

11 Comments
Yes, this is big real hot news from many large webmaster communities, not rumor. Google updated the PageRank (PR) from yesterday (June 27), although there's still some dancing PR changes to a few of sites; but now you may check new PR for sites.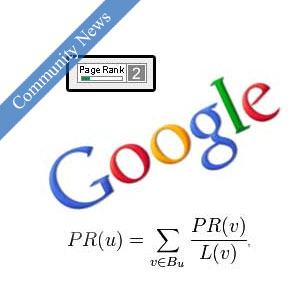 Some important ideas about PR if you still do not know:
PR is one of more 200 factors Google used to rank our web pages.
PR doesn't effect SERP (Search Engine Result Page) as much as we hope.
We can check PR of URL, website, blog by Google Toolbar or live-PR checkers.
PR Updates/Changes: this is still mysterious because we can not know/predict when it shall happen / happening; we can only know the last result when it happened.
For each PR change/update, there's always many webmasters, site owners are happy with their increased PR, and others are disappointed by decreased PR; because this is the game they do not know how to play for winning.
In my opinion, I think this PR update has a connection with Panda campaign Google expanded during many months ago. Content has the very important role in this PR update, the websites/blogs with good quality content, frequently refresh, unique & useful information will be ranked higher than low quality sites.
For my websites:
That's things I want to share with you about this PR update, please share your opinions with us.
More comments:
More comments:
About us
9BlogTips.com is a community for bloggers and small business owners. We offer useful tips, snippets, tutorials, inspirational artworks and helpful resources that we hope will help you on your entrepreneurial journey.
Those new to blogging often find it difficult to get their blog off the ground and start making money. So here on this community blog we offer tips and advice for small businesses and bloggers. We talk about project management to help you become more efficient and are always interested in the latest tech tips for bloggers and small businesses like how to do effective seo and digital marketing so people can find your site.
We discuss training and coaching for business owners, change management training, how to promote yourself and your blog and how to raise finance that can help at difficult moments while building your business blog.
But a successful small business also has to consider cost-effective options for office space such as in a small business hub or self-storage instead of a warehouse.
Why not join our community by sharing a comment and getting the conversation started.