Giveaway: 3 Web Hosting Accounts for 1 year

by
admin

13 Comments
Tags:
affordable web hosting packages
,
high quality hosting services
,
recommended web hosting provider
,
reliable unlimited web hosting
,
SEO tools
,
Softaculous Premium
,
unlimited web hosting
,
unlimited web hosting contest
,
unlimited web hosting giveaway
,
web hosting awards
,
web hosting companies
updated: this contest is over, go to bottom to see winners Today, 9BlogTips.com & Zyma Technologies are happy to hold this unlimited web hosting contest. We're giving three (3) unlimited web hosting at Zyma web host for one (1) year with full completed features like standard users.
Some  Zyma web hosting features you may need to know
Unlimited

Web space, Traffic, Email Accounts, SQL Databases, FTP Accounts

Free

Domain Name, Website Builder, CDN Service, Google Vouchers

99.9%

Uptime Guarantee

cPanel

Web Hosting

Softaculous Premium

SEO tools

via cPanel
Check out more web hosting features of Zyma at http://www.zyma.com/features/.

Launched in 2010, Zyma is one of the fastest growing web hosting companies in the UK (based in Basingstoke) with many affordable web hosting packages. Zyma is serving the users at 80+ different countries and growing; by providing high quality hosting services and reliable unlimited web hosting; Zyma  won many web hosting awards: Preferred Shared Host, Top UK Shared Host, Top UK Host; become become the recommended web hosting provider is Zyma's vision.
How to win the free web hosting account?
Retweet or share (on Facebook) about this unlimited web hosting giveaway and write a comment with the link you made. This unlimited web hosting contest will run for 14 days, we'll announce the winners on 26 September 2012. First 3 lucky winners will be selected randomly (random.org) from valid comments. Good luck!
Contest ended!
We have 7 valid candidates:
Tim Wayne
Fahim Amir
Hking Iking
Pritush
AndroidDX
Ashwani Kumar Singh
subash
Now it's time to pick 3 lucky winners by random.org. I just random 1 time, and here's result: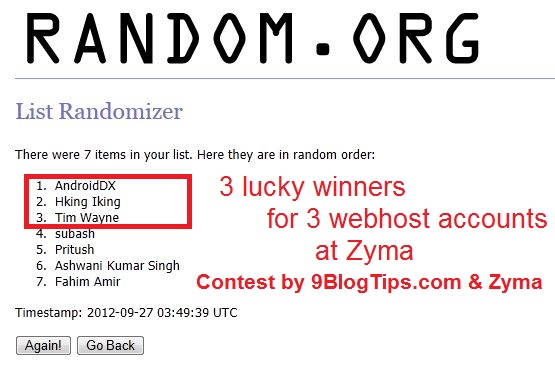 9BlogTips.com gave emails of 3 lucky winners, Zyma should contact you soon. Please write a comment on this post to confirm, many thanks.
Don't forget  to follow us on twitter@9blogtips or connect on facebook@9blogtips for more other giveaways and contests in future. p
More comments:
More comments:
About us
9BlogTips.com is a community for bloggers and small business owners. We offer useful tips, snippets, tutorials, inspirational artworks and helpful resources that we hope will help you on your entrepreneurial journey.
Those new to blogging often find it difficult to get their blog off the ground and start making money. So here on this community blog we offer tips and advice for small businesses and bloggers. We talk about project management to help you become more efficient and are always interested in the latest tech tips for bloggers and small businesses like how to do effective seo and digital marketing so people can find your site.
We discuss training and coaching for business owners, change management training, how to promote yourself and your blog and how to raise finance that can help at difficult moments while building your business blog.
But a successful small business also has to consider cost-effective options for office space such as in a small business hub or self-storage instead of a warehouse.
Why not join our community by sharing a comment and getting the conversation started.