/
Community News
/ How much money do I need to start a digital marketing agency?
How much money do I need to start a digital marketing agency?

by Guest

No Comments
Mark Zeni
So, you're finally ready to see your vision materialize, witness as your dreams turn into reality. Good for you! Starting your own agency is an exciting and challenging feat. The best part is, you're now able to do what you love and make money at the same time! Yet, taking the first step in this journey will always come with challenges. To start your agency, you have to formulate your business plan first.
By now, you've already done your research. The next step would be to list down what you will need. How many employees are you going to have? Are you going to hire digital marketing experts or are you going to outsource SEO? What tools are you going to need and how much will you be spending on them? Where are you going to work?
Keeping all these in mind, the question remains—how much do you really need to start an agency?
Different businesses come with different expenses. However, if you're starting an agency, then you won't be needing a lot of start-up capital just because you won't be in an industry where you need to manufacture. There also won't be a need for transportation costs because there won't be distribution involved. Agencies are less likely to cost you just because they mainly provide expertise and services to bridge the gap between another company and their clients. For example, there are employment agencies that provide businesses with qualified employees and then there are real estate agencies where they act as the intermediary between sellers. Digital marketing agencies basically work the same way. They provide digital marketing services to businesses. They deliver the goods with their in-house talents or via white label SEO programs where they outsource and rebrand services to better serve their growing clients on time.
Here's a list of major expenses you need to keep in mind and their estimated costs:
Initial expenses or one time expenses are those which will only occur in the beginning of starting your agency. These are expenses that are not normally included in a company's operational costs. These are costs that you will most likely only cover at the beginning.
Monthly expenses are costs which you will have to pay consistently. More or less, these are operational costs that you will have to shoulder to keep your company working.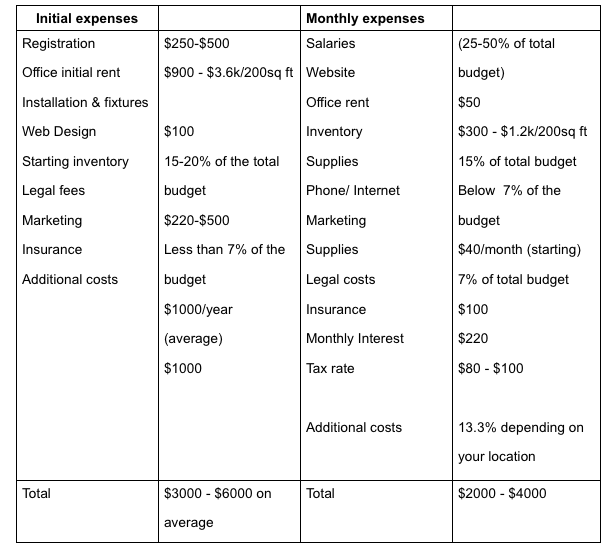 If you want a thorough list of expenditures to prepare you for emergencies the moment you put your plans into action, it would help to check out the financial reports of similar businesses in your area. Also, talk to business owners and industry professionals. This will definitely give you the advice and support you need to start your business.
Tip: Give an allowance to your budget. Don't underestimate your expenditures because often, there will be unexpected costs coming your way throughout this process.
Funding your business
One of the biggest factors hindering a start-up to begin operation is securing the capital. But, having no capital is no reason for you to not start. Nowadays, there are tons of ways you can fund your business -from finding investors to crowdfunding. Examples of top-rated crowdfunding sites are Kickstarter and GoFundMe.
Kickstarter is the world's biggest platform for crowdfunding, enabling artists to fund their creative projects. Unlike GoFundMe, Kickstarter screens businesses and campaigns before they can allow them to go live. They essentially choose businesses that create a product. Any campaign with Kickstarter can last up to 60 days.
GoFundMe is different in a way that you can raise funds for whatever project or campaign you choose to enter. They also have a you-keep-what-you-raised policy with the added perk of the campaign duration having no limit. Although it's a platform to raise money for causes and charity, they will kick you out if they find you in violation of their rules.
Another option you can take into consideration is getting business loans from banks, also known as debt financing. You can also raise money by swapping a percentage of your future earnings for funding. There are a lot of ways to raise capital aside from bootstrapping your business. Keep in mind if the capital won't be coming from your own pocket, then expect there will be more legalities involved.
Tip: Don't forget to document every process, every step, and every angle of your business. Not just for your reference but if you're partnering with an investor, it would show them a more solid business report.
Nothing worth having comes easy but remember that preparation and research is the rule of the game. There will always be challenges, but like Winston Churchill said, "Never, never, never give up."

Browse all articles on the Internet Marketing category or check the recommended articles for you below:
About us
9BlogTips.com is a community for bloggers and small business owners. We offer useful tips, snippets, tutorials, inspirational artworks and helpful resources that we hope will help you on your entrepreneurial journey.
Those new to blogging often find it difficult to get their blog off the ground and start making money. So here on this community blog we offer tips and advice for small businesses and bloggers. We talk about project management to help you become more efficient and are always interested in the latest tech tips for bloggers and small businesses like how to do effective seo and digital marketing so people can find your site.
We discuss training and coaching for business owners, change management training, how to promote yourself and your blog and how to raise finance that can help at difficult moments while building your business blog.
But a successful small business also has to consider cost-effective options for office space such as in a small business hub or self-storage instead of a warehouse.
Why not join our community by sharing a comment and getting the conversation started.