/
Community News
/ NutriProfits Affiliate Program: It's a Beautiful Thing
NutriProfits Affiliate Program: It's a Beautiful Thing
One of the most lucrative verticals you can get into as an affiliate marketing professional is health and beauty. The target demographic for this industry is one that is very open to spending money, so creates a win-win opportunity for both you as the affiliate and the vendor as the advertiser. And if you really want to take in top dollar, you'll want to take a closer look at the NutriProfits affiliate program.
Health and Beauty Affiliate Program
In operation since 2013, NutriProfits was created by affiliates with years of industry experience. Because of this background in affiliate marketing, the people behind NutriProfits have an intimate understanding of what affiliate marketers want from a program and platform. And they aim to deliver a platform that "ensures our partners the highest earnings and satisfaction."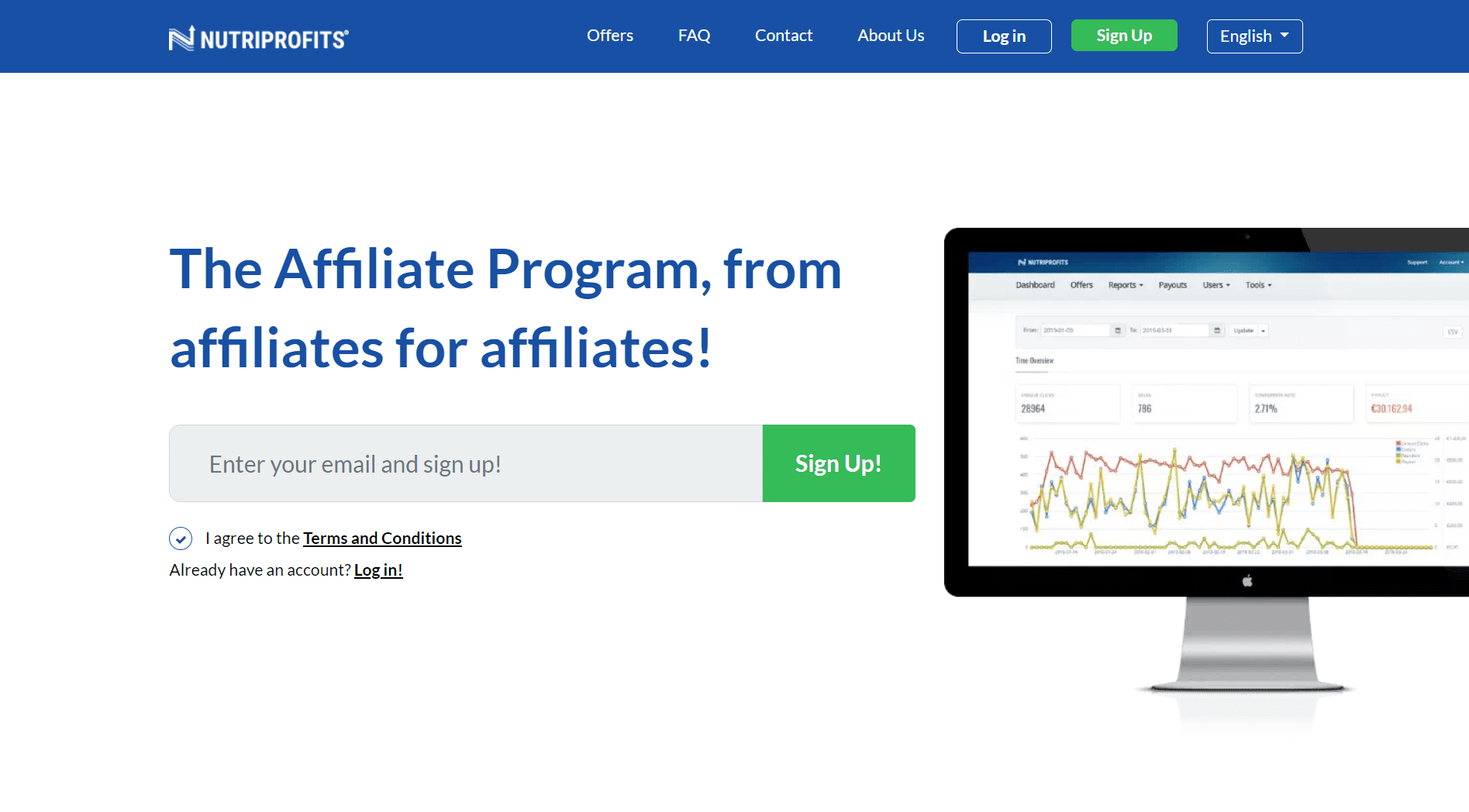 Registering for the affiliate program doesn't cost you a dime and you can literally get started in a matter of seconds. Simply enter your email address on the main form on the homepage. This will direct you to the "create your account" page where you'll enter your desired username and password. After confirming your email address, you'll gain access to the main dashboard.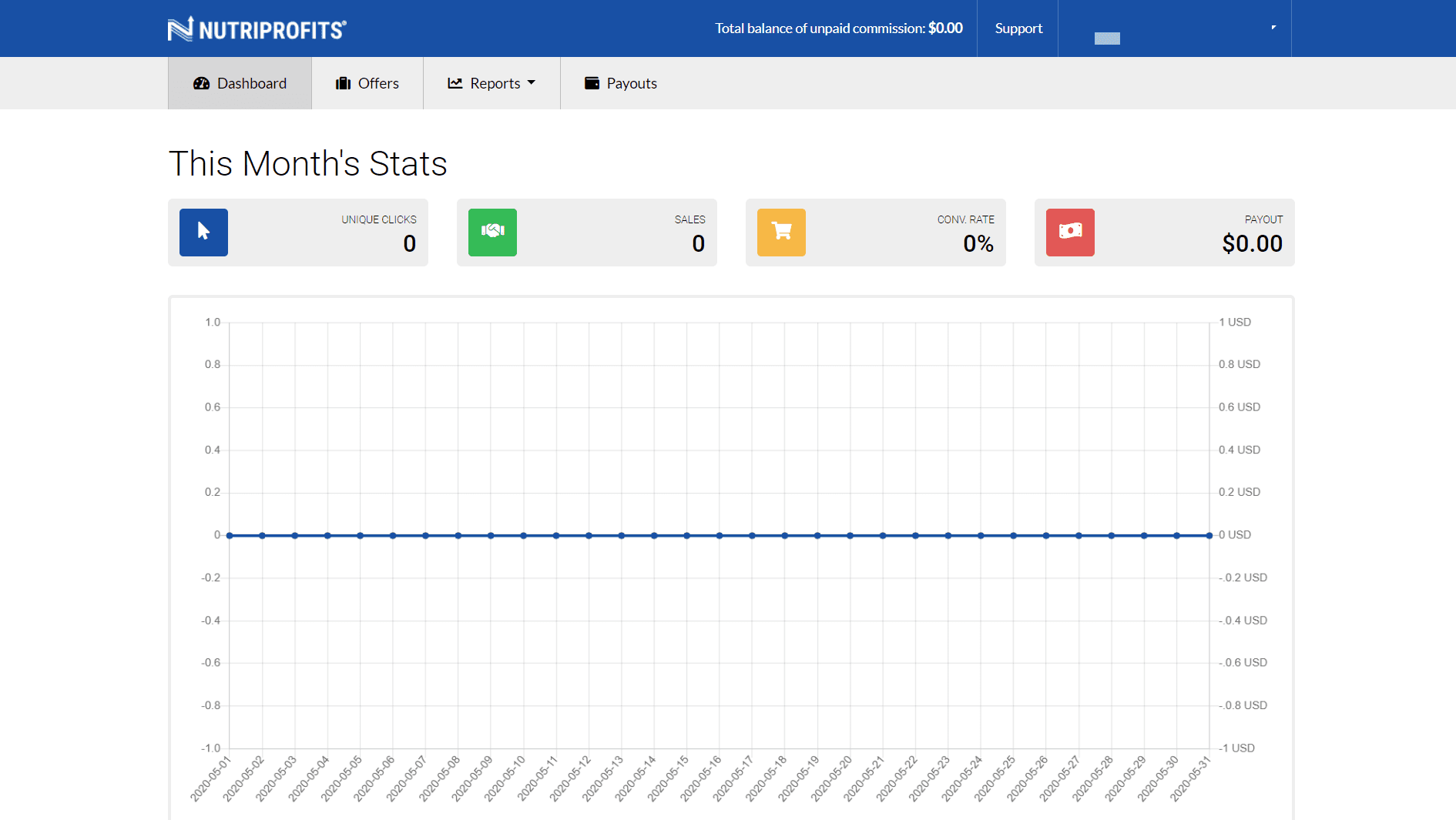 The main dashboard is as you would expect for an affiliate program. You get an overview of this month's stats, including clicks, sales, conversion rate and payout. You can also generate a number of reports based on offers, sites, traffic sources, chargebacks and tags. It's all easy to understand and follow.
Earn Up to 40% From Each Sale
While you can certainly promote the affiliate offers on your own website or through your own mailing list, you don't necessarily need your own website in order to profit. For example, you can promote the products via social media, guest blogs, content marketing, search engine marketing, writing comments, and so on.
To get a sense of what you can expect, you can preview the list of offers on the NutriProfits website even without signing up for an account.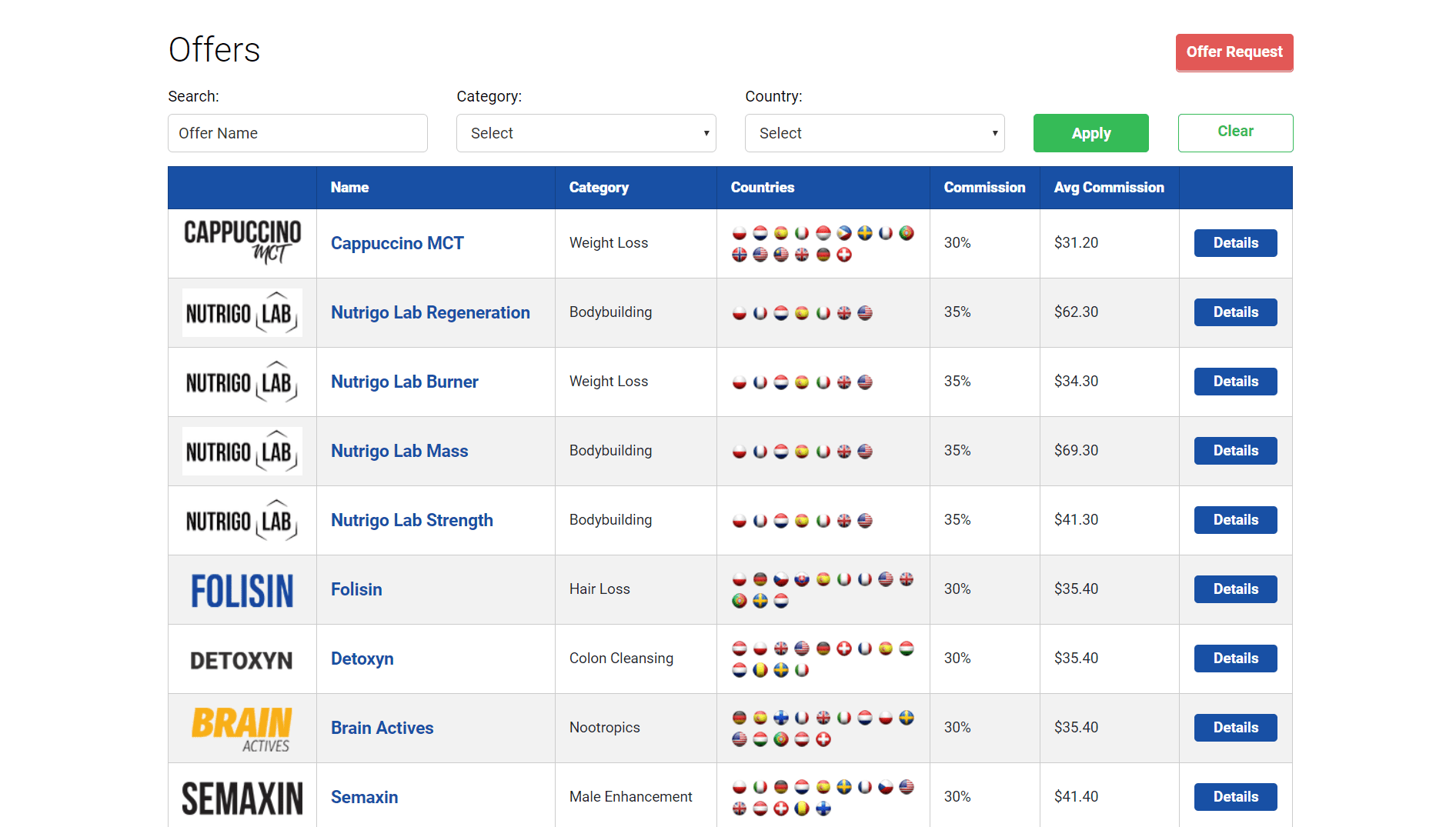 Something that may jump out at you immediately is the generous commission rate. You can earn up to 40% from each sale in some cases; the vast majority of affiliate offers are at least 30%, generating average commissions of anywhere from about $30 to over $60. What's more, every returning customer is assigned to your account for life. If they like what they bought and come back for more, that new purchase generates a new commission for you as well.
Another thing you may notice is the broad reach of these beauty and health product offers. They cover a wide range of geolocations, so you'll be able to market and promote these offers to potential customers in many different countries. You also enjoy a 120-day cookie duration, so even if a customer decides to make a purchase four months later, that sale could still "belong" to you.
Check the FAQ page for further details.
High Quality Ingredients for Success
NutriProfits prides itself in the products on offer, saying that they are made only from the highest quality ingredients. Customers in the health and beauty space can be very discerning, so it's important to offer a quality product. And you need to have the right support to market that product too.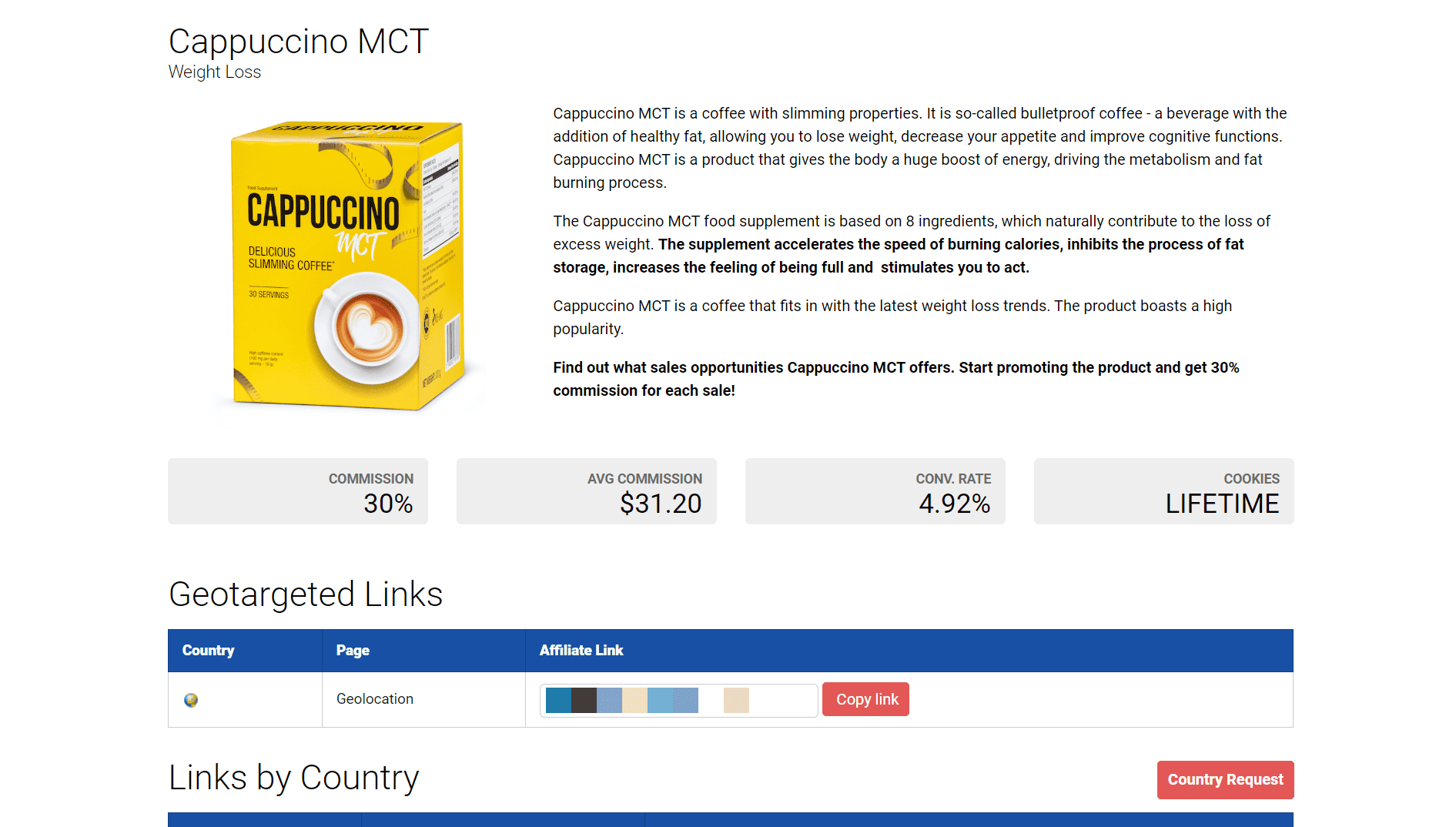 Here is one of the top examples from NutriProfits. Positioned as a weight loss product, Cappuccino MCT "is a coffee with slimming properties." You may have heard the term "bulletproof coffee." The idea is that you get a boost of energy to drive the metabolism and fat burning process. It is also said to promote cognitive functions.
In this case, you don't get just a 120-day cookie; it's a lifetime cookie. The offer page also shows the 30% commission rate, the $31.20 average commission payout, and the 4.92% conversion rate. This gives you a sense of the kind of performance you can expect. There's a single geotargeted link that should send the user to the correct version of the site, as well as country-specific links if you prefer.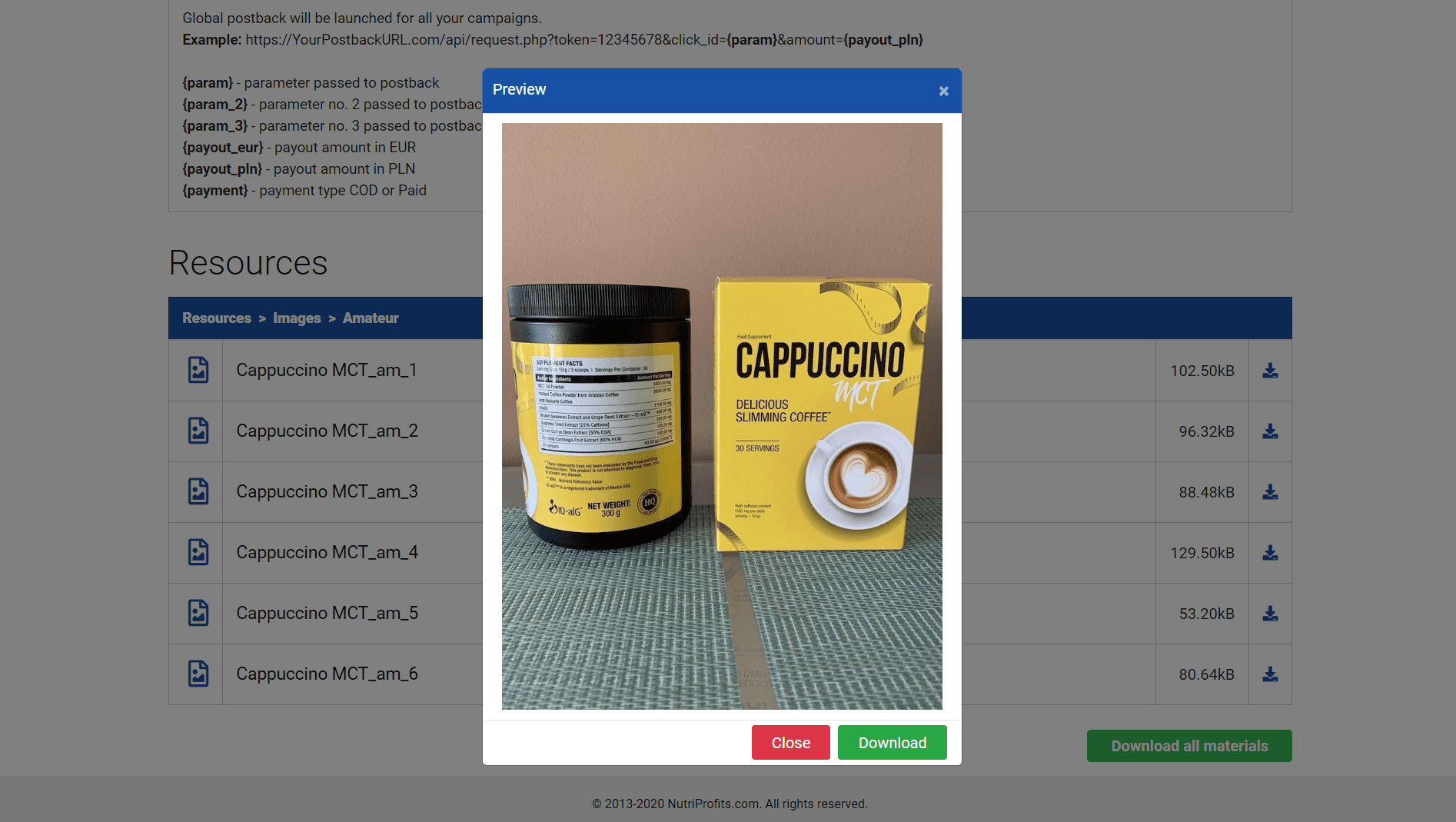 To support your ability to promote the offer, NutriProfits provides a number of promotional materials too. In this specific case, there are 6 professional photos, 6 amateur photos (to mimic the "influencer" look, as shown above), a mailing design, banners in 11 different languages, and technical documentation in English and Polish. It's a lot.
Payment Details
When you first sign into your account, you'll be asked to complete your profile. It's here that you decide on your preferred currency: EUR, USD, GBP or PLN. You also choose your preferred withdrawal method: bank transfer, ePayments or Paxum.
Payments are issued once a month on the 21st for commissions earned during the previous month, so long as you meet the minimum threshold. That's 100 EUR, 80 GBP, 120 USD, or PLN 400, depending on your currency of choice. There are no fees for making a withdrawal.
A Nutritional Choice
It's truly a thing of beauty when you can have a healthy relationship with an affiliate program. NutriProfits can be one such option, as an affiliate program created by affiliates for affiliates. With high quality products, support for over 100 countries, generous commission rates of up to 40% per sale, lifetime recurring commissions, fast payments, excellent support, and long cookies, there's a lot to like here.
If you've already got terrific sources of health and beauty traffic, like your own website or a valuable email marketing list with engaged subscribers, you're well on your way to earning your first commission through NutriProfits. While individual performance will naturally vary, some of their most active affiliates are bringing in "tens of thousands of EUR per month." Will you enjoy the same?
Related blog posts and resources: