/
Community News
/ 1 Blogging Lesson I Learned from Parking a Car in NYC
1 Blogging Lesson I Learned from Parking a Car in NYC
Landing pages can steal people's attention. And if you play your cards right, these pages hold the ticket to attracting more customers.
However, let's be clear:
Landing pages are double-edged swords. While they can help you, they can also harm you — unless you've optimized them accordingly.
So if you know your landing page needs work, why not get around it?
As you go through this article, you'll find five landing page optimization tools for your blog. With them, you can revamp your landing page then have it increase conversions and your blog's income.
Unbounce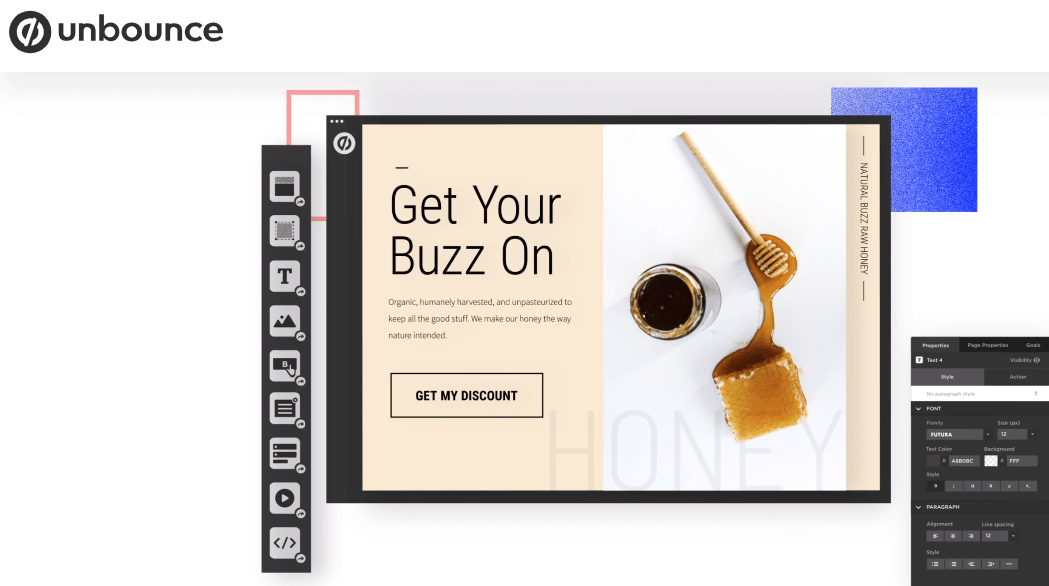 Optimizing landing pages is not possible if you haven't built them yet. So to construct great landing pages, the tool for you is Unbounce.
And Effin Amazing, a Florida-based agency that specializes in analytics and growth, will tell you all about the tool's power.
When one of its clients, Chupa Mobile, asked for help generating new leads, Effin Amazing used Unbounce. The team's idea for its client involved a lead nurturing strategy and a content calendar. That and Effin Amazing wanted to get it done as quickly as possible.
True, it was a rather ambitious plan. However, it was realistic. And get this:
The marketing agency reached its goal. Chupa Mobile was satisfied with its landing page. It also began generating dozens of new leads. Plus, it also walked away with a 44% increase in conversions.
Crazy Egg
Electronic Arts is a successful media company that knows that Crazy Egg lets you set up an A/B test in minutes. It also knows that the tool features Visitor Insights and Heatmaps. Both of which provide information about user behavior on landing pages. So before launching SimCity 5 in 2013, it set up an A/B testing process to maximize revenue.

For the control version of its landing page, it merely focuses on promoting the simulation game. While on the other version, the company offers a 20% discount.
Here's the control version of its landing page: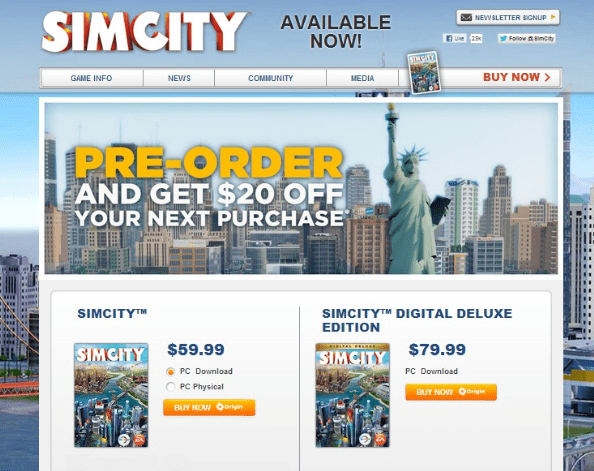 Here's the variation: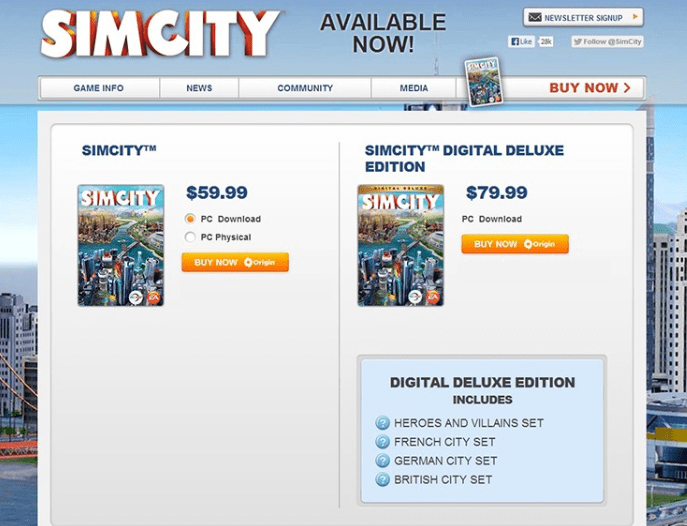 After a while, the media company discovered that its landing page's variation was a hit. Compared to the version that brings an incentive into the table, the landing page design without a 20% discount performed 43.4% better.
Google Analytics

If you combine Google Analytics and Google Adwords, a powerful tool is in your hands. You can use it to track landing page performance to haul in leads even after they exit your site.
To demonstrate the power of Analytics, let's explore Marketo's conversion increase that happened after using the tool.
So here's the story:
As a go-to company for many B2B and B2C folks when it comes to marketing and automation, Marketo's goal is to help its clients improve conversions. And to reach that goal, the plan was to use Analytics and real-time personalization.
So it took its clients' website data such as industry vertical and top products. Then it merged all of it with the user behavior data it got from Google Analytics.
Because of what the analytics tool reveals, Marketo provided audiences with relevant data. From what it gathered, it also created topnotch remarketing campaigns. The fruits of the marketing company's labor? A 10x conversion rate improvement for its clients!
Thrive Architect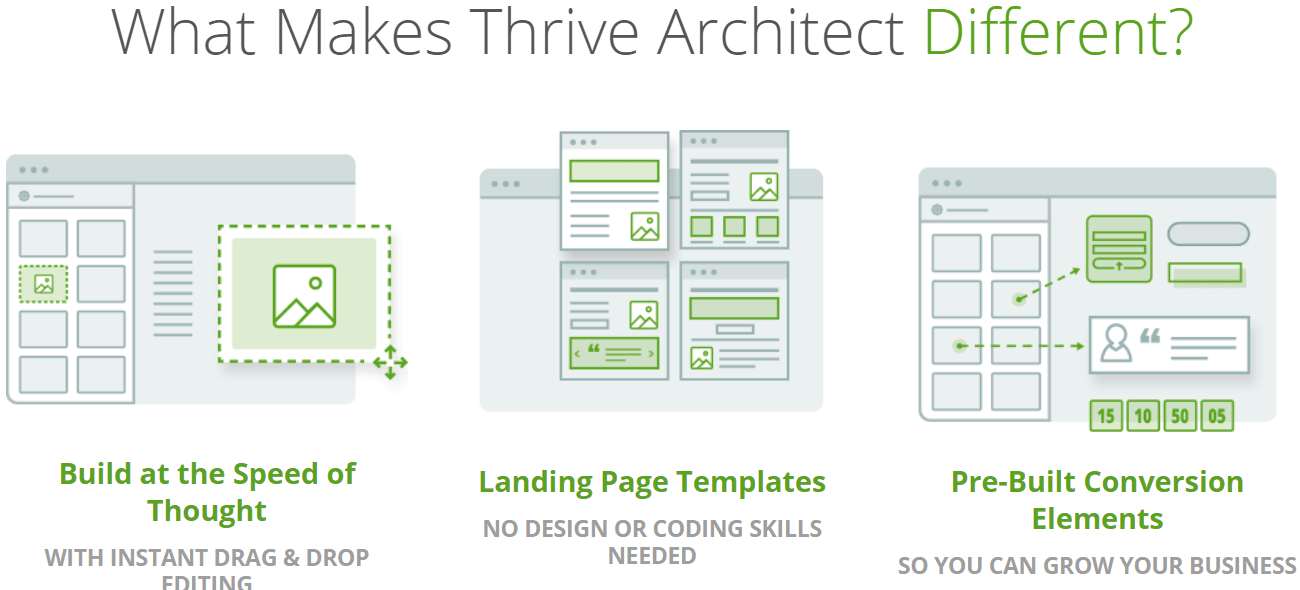 Thrive Architect is a WordPress page builder. And if you're searching for a tool that can help you create visually impressive, high-converting landing pages, it's the tool you need.
Take it from Louise Hendon. She is a solopreneur who uses Thrive Architect to whip up topnotch landing pages for Nourishing Brands. That's why, over the years, she succeeded in building a sizeable six-figure business.
An upside is this:
Thrive Architect features a drag-and-drop interface that lets you build your page quickly. If you want detailed instructions on how to use the page builder, this article from ProfitBlitz will come to your rescue.
Pingdom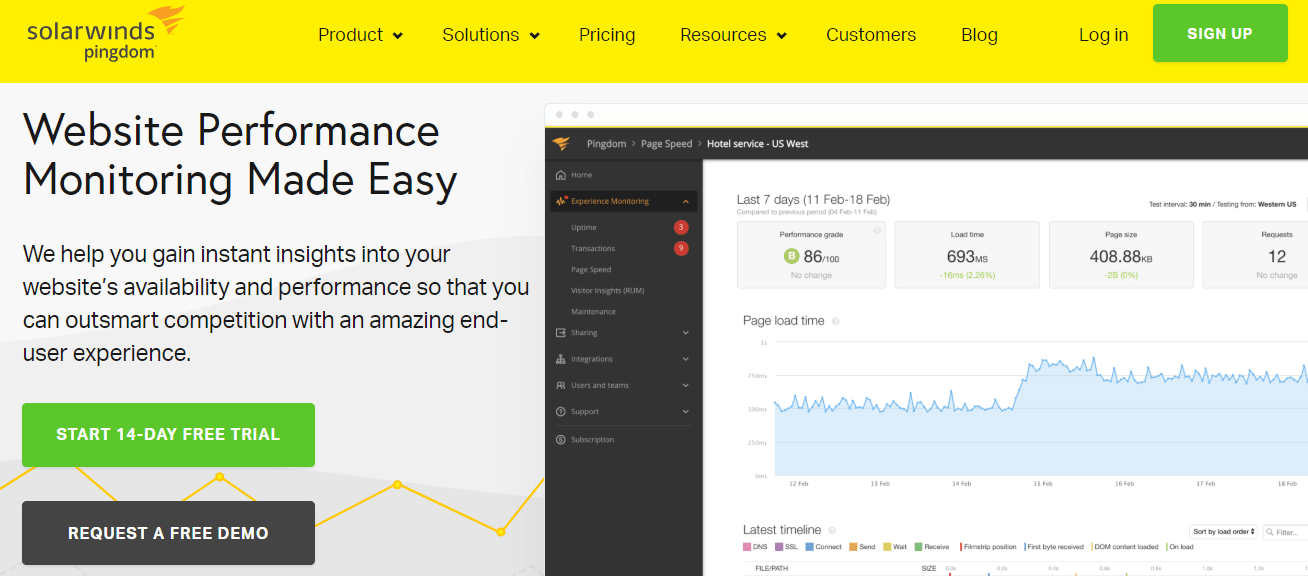 Did you know that Refinery29, a globally recognized brand for smart, creative women, uses Pingdom? And because the tool provides insights about how to increase page loading speed, the brand welcomes 36 million monthly visits.
So if your landing page loads slowly, Pingdom can help you. The tool works by taking your site out for a spin and pointing you to the root of the problem.
The excellent news is Pingdom is free and easy-to-use. All you must do is paste your site's URL where the tool specifies, and you're good to go.
To see it work in action, let's check the page loading speed of a random site. For this, let's go with Goliath National Bank's website. So let's paste its URL on the appropriate field and click START TEST.

After the tool is done with the analysis, scroll down the same page to see the results.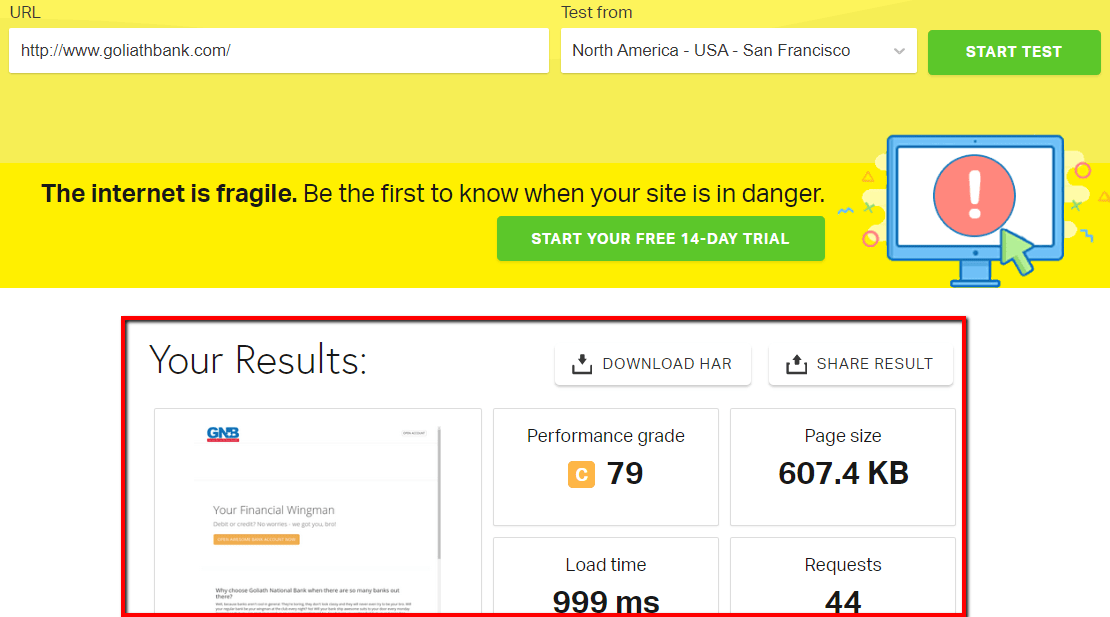 And if you scroll down some more, you'll find suggestions on how to improve page performance. If you want a detailed explanation on how to improve page performance, expand the suggestion.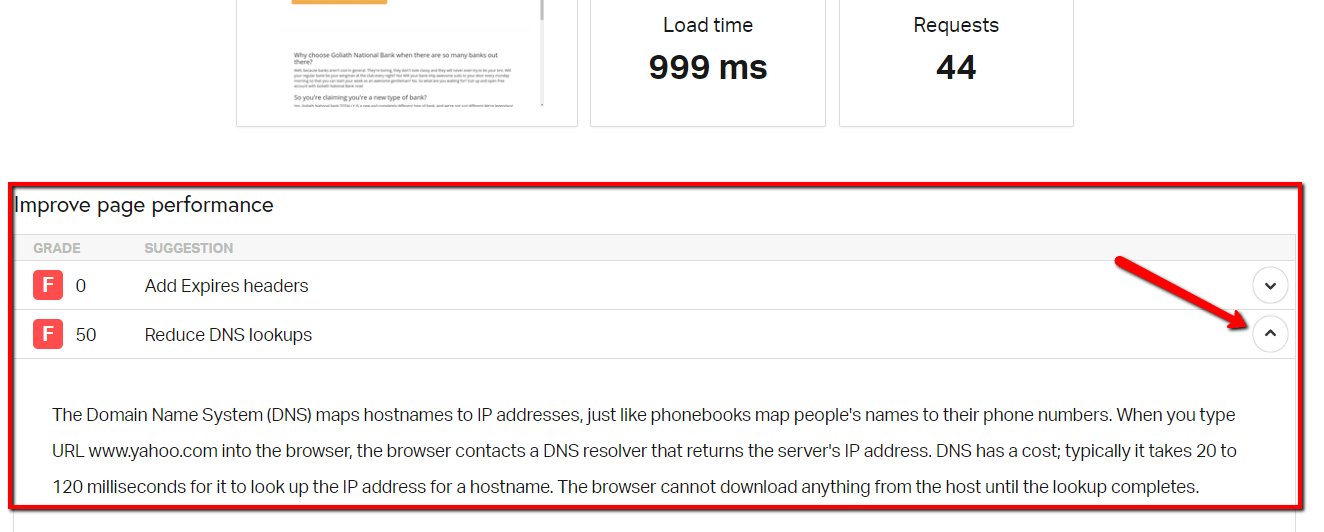 Final Thoughts
Put yourself in a potential customer's shoes and think of a landing page as a gateway to something unknown. Now, if someone herded you toward this gateway, would you want to see what's on the other side of the fence if the entry point is dreary?
Chances are, you won't. By the looks of it, choosing to pursue the dark path won't lead to anywhere promising.
Remember, creating landing pages and creating landing pages that convert are two different things. So as you build your landing pages, make sure to implement nothing but the best landing page optimization practices.
Related blog posts and resources: