/
Community News
/ Top 10 Online Proofreading Services
Top 10 Online Proofreading Services

by Guest

No Comments
Mark Zeni
There are plenty of proofreading software and tools available online which allow you to proofread your documents for free. Relying on them for a cursory check while writing is okay. But solely trusting such automated algorithms to verify your work for "mistakes" and "grammatical errors" is only a recipe for disaster, especially when machines still haven't grasped the intricacies of human language and grammar.
That's why authors and academic experts recommend having your written work proofread by an English language expert or by professional proofreaders. Here are few solid reasons to find professional proofreading help:
They are grammar experts, not just spell-checkers

They also provide critical feedback

Experts understand nuances of writing
If you have friends or family who excel at English, pass them your work before you turn in your paper or publish that book. For people who aren't fortunate to have one, we have compiled a list of 10 online proofreading services who will treat you just the same and provide you with an honest feedback. Here they are:
1. PaperTrue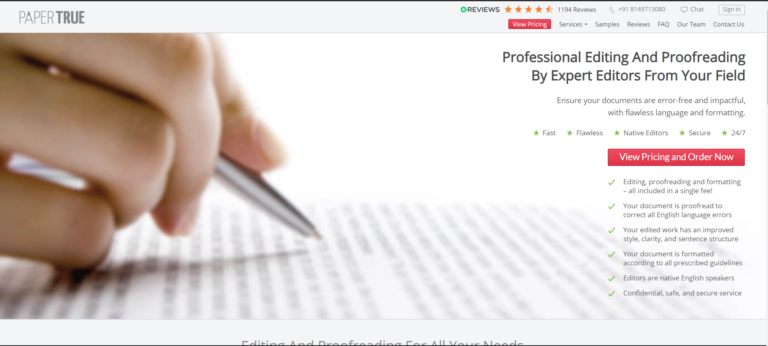 PaperTrue provides professional editing and proofreading to ensure your academic documents are error-free and impactful, with improved flow and formatting. Their expert editors are native English speakers from diverse academic backgrounds, who know how to thoroughly process your projects, having cared for their own in the past.
PaperTrue ensures your work is free from all English language errors (grammar, punctuation, spelling, and typography) and has an improved style, clarity, sentence structure, and coherence.
Pricing: Express editing of a 1000-word academic document within 24 hours will cost you US $36.
What clients have to say about this service: "Very trustworthy and extremely efficient."
"You write it, we make it right" reads the tagline for this company. If you're looking to proofread your website, academic papers and essays, and books you can head to TheProofreaders. They reserve the bragging rights for proofreading websites like Philadelphia Nursing Home Attorney, American Line Striping and California Criminal Defense Attorney.
Pricing: Using standard pricing per word, you can expect to pay $0.075/word
What clients have to say about this service: "Their work is thorough; you can expect the utmost accuracy"
3. Scribendi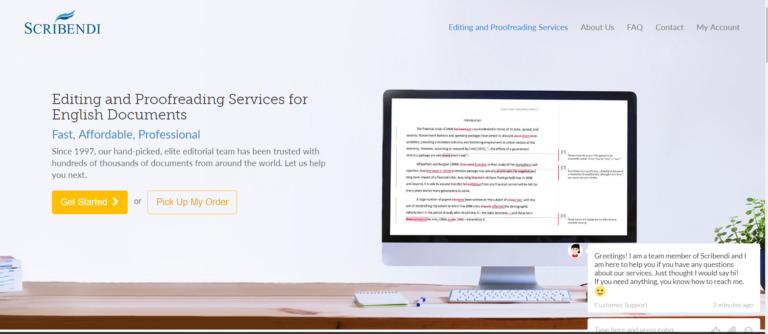 Just like PaperTrue, Scribendi offers editing and proofreading across the board; English as a Second Language – makes your English sound like a native speaker, academic – term papers, journal articles, and admission essays and proposals. Writing a book? Scribendi covers that too.
Are you a business person who needs reports or marketing materials to be edited and proofread? Scribendi will proofread it all!
Pricing: A 24-hour proofread of a 1000-word academic text will cost you about US $40.
What clients have to say about this service: "Easy and nice review. I totally recommended."
4. Papercheck
If you're looking for round the clock business and academic proofreading, you can try Papercheck. The document body and thesis statement are proofread, ensuring effective communication of the written concept from the writer to the reader. Clients requiring academic editing can request editors to follow any of the standard writing styles: MLA, APA, ASA, AMA, Chicago, CSE, Turabian, or AP.
Pricing:
Express orders cost US $0.05/word to $0.03 for the standard affair.
What clients have to say about this service: "the editor did not only improve my text, but added recommendations and rules about how to avoid the same problems in the future."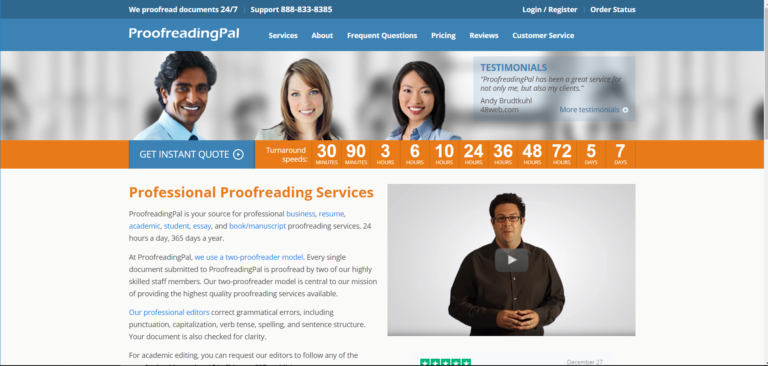 Express deliveries are common across all online proofreading services, but ProofreadingPal boasts of turnaround speeds of as little as 30 and 90 minutes. So, the smaller documents you tend to procrastinate until the last minute, like resumes and essays can be sent for a quick makeover before the deadline hits in an hour.
Pricing: Depending on the kind of document and formatting style, a 24-hour turnaround can cost you between US $30-$100.
What clients have to say about this service: "ProofreadingPal was courteous, professional and efficient."
6. Wordvice
Wordvice is a sidekick to scholars, researchers, students, writers, and businesses around the world who edits academic and professional writing. A typical job consists of improving the style, sentence structure, clarity and coherence of your writing.
What sets them apart is their dedicated focus on admissions and scholarship editing services to critique undergraduate, graduate, and professional school essays, along with scholarship applications and recommendation letters. You can check their entire range of utilities here.
Pricing alert: A 1000-word academic document worked within 24 hours hits US $80.
What clients have to say about this service: "Great service!! the writing in the document was much improved.
7. Editage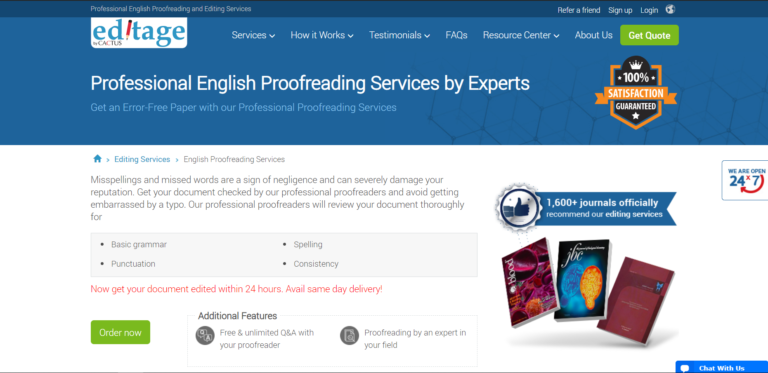 This one is for all your academic editing purposes as Editage focuses solely on English language academic proofreading services for Academic, Scientific Manuscripts, Articles, and Papers. So even if authors and job seekers have no business here, students looking to publish papers in prestigious journals can bet their money on this one. After all, this service is recommended by more than 1600 international journals.
Pricing: You can have your Papers checked with Editage for prices starting at $30 USD per 1000 words.
What clients have to say about this service: "The experience was very good and the premium editing was very helpful."
8. Scribbr
Scribbr is focused on academic proofreading services. They also provide additional services like plagiarism checker and citation generator for thorough submission assistance. Scribbr drives on simple mission: To help you achieve your academic goals. Whether it's proofreading dissertations, checking for plagiarism, generating APA or MLA citations, their main purpose is to help students graduate.
Another valuable offering is their regularly updated extensive Knowledge Base where you have a lot to learn about academic writing.
Pricing: Prices start at $0.014 per word
What clients have to say about this service: "The overall feedback and corrections were excellent."
9. Enago
Apart from the standard editing and proofreading, Enago also offers additional translation, statistical analysis, video abstracts, medical writing, and publishing help. What also makes them special is that they have a rewards club, a common ploy for customer retention seldom found on such websites. They also claim a near 100% client satisfaction and have websites up and running in other regional languages like Chinese and Korean.
Enago's editing team has Ph.D./Master's qualified native English-speaking editors with vast experience. Also, every paper you submit to them is reviewed by a highly specialized subject-area expert to ensure technical accuracy.
Pricing: Enago has its services bundled in various packages which you can check here. Prices look more on the steeper side to us.
What clients have to say about this service: "I thank Enago for providing high quality proofreading service."
Wow, that's a straightforward name! They proofread and edit for businesses, academics, authors, people applying for jobs, and more. For academic papers and essays, ProofreadingServices will work across an exhaustive list of style guides like ACS, AMA, APA, bluebook, Chicago, Harvard, IEEE, MLA, Turabian and whatever else you need. Any file format is good to go up for processing.
Pricing: Ranging from USD 19 to 46 per hour depending on turnaround time, with the highest pay for the most urgent deadlines.
What clients have to say about this service: "Thank you especially for completing proofreading in nearly 4 days. Thank you also for professional job."

Browse all articles on the Writing Content category or check the recommended articles for you below: