More 10 Awesome Countdown Timers

by
Phong

10 Comments
There are not much days left for Christmas since this post – Top 10 Beautiful Christmas Countdown Timers. The months have passed and days, hours, minutes and seconds are passing. The Christmas Day is coming soon and if you are still looking for some more interesting and beautiful countdown timers for Christmas day then this post is the right place, I'm pleasure to show you more 10 awesome countdown timers to Christmas.
Before we start, allow me to repeat my personal notes: most of these Christmas countdown timers still are free (downloadable) and some others are commercial versions. You can easily download & setup them in your web page or social networking profiles. However, I just recommend them to you; if you like any countdown, please contact the author to take the permission and release them wherever you wish.
Now it's time to enjoy them!
Days Until Christmas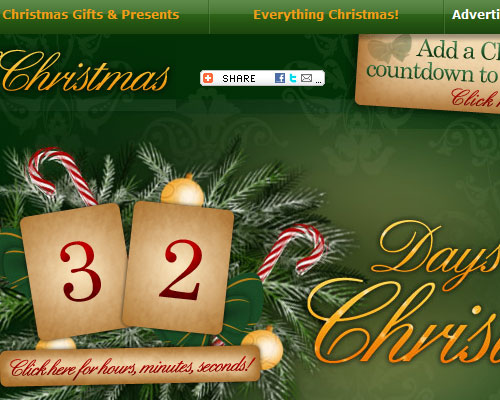 For this countdown till Christmas timer, all you have to do is go to download page, get given code then paste it into wherever you wish to setup.
Christmas Countdowns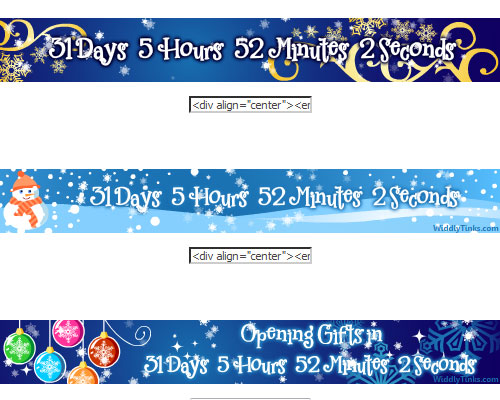 This resouorce provides us many little Chirstmas countdown timers, they're really beautiful with many various subjects and sizes: snowman, ballons, Santa Claus, etc.
Santapodz Christmas Countdown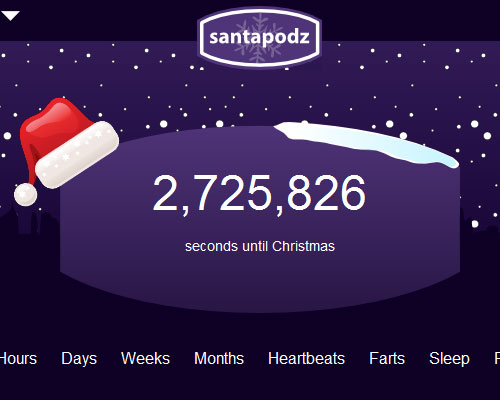 This beautiful Christmas countdown clock shall allow you to check Seconds, Minutes, Hours, Days, Weeks, Months, Heartbeats, Farts, sleeps left till the Christmas Day. Not only this but this timer will allow you to discover the presents you'll receive and money you will be spending before Christmas day which is really interesting, interactive and amazing. Try once to get astonished.
Countdown to Christmas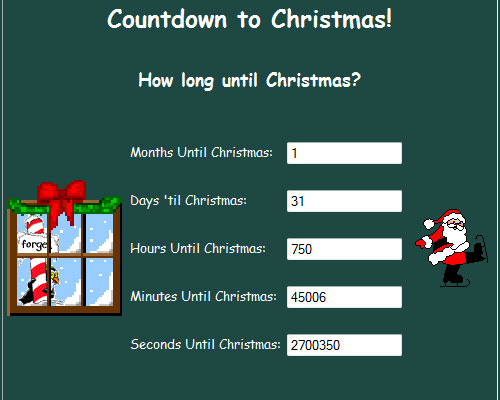 Just select your time zone and get this Christmas calendar countdown for yourself. This is a very simple and decent looking countdown. Look at Santa Dance …
Countdown to Christmas Day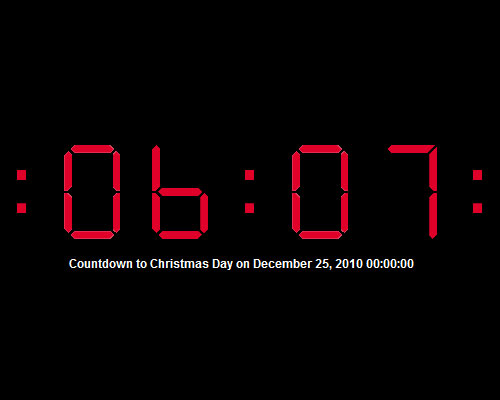 This is again a customizable countdown timer that can be viewed in Small, Medium, Large and Extra Large sizes. The users can edit the background colors and choose any of the blue, black, green and orange colors.
Christmas Countdown Timer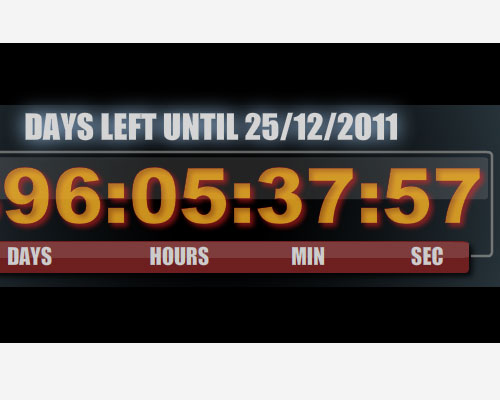 Cool other Christmas countdown timer from one of ActiveDen members.
Christmas Countdown Clock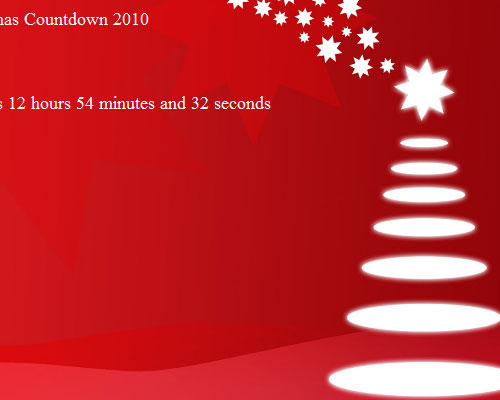 Simple Christmas countdown timer made by HTML, JavaScript and awesome background image. You can easily download it and edit more interesting things on this countdown.
Advent Countdown Christmas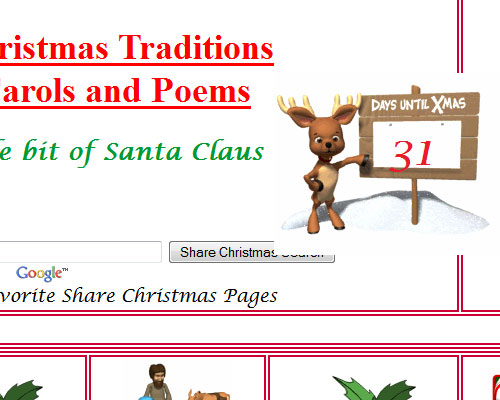 This is just simple Christmas countdown with JavaScript but when combined with a nice GIF image, it looks beautiful!
Christmas countdown clock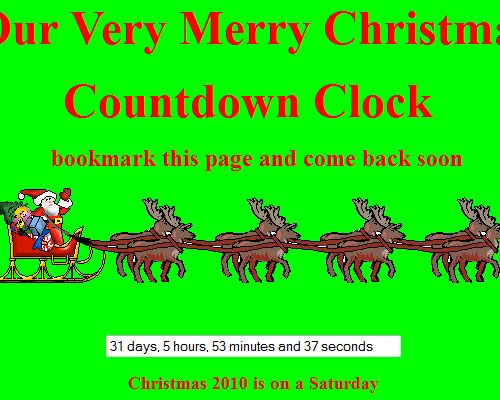 A perfect Christmas countdown timer for website relates to children.
2010 Christmas CountDown with Snow
Awesome Christmas countdown timer made by cool shapes, nice fonts and beautiful falling snow flakes animation. That's so cool! But unfortunately, it's not free for everybody.
Final words
Christmas is coming, I hope you'll find a cool countdown timer for your page from my list. And I shall be happy if you tell me more awesome Chirstmas countdown timers you know.
More comments:
More comments: